DIA to commence unannounced inspections and visits
6 April 2022
The Department of Internal Affairs have announced that they will be commencing unannounced casino and venue inspections and visits.
As you will no longer receive advanced warning of a visit, it is critical that you review your gaming operations and be prepared.
We urge clubs to go over all processes and procedures. Get your team together and have a refresher, both on your clubs internal processes and procedures and let us know if you have staff that require Harm Minimisation Training. Make sure that staff know what to do in the event that inspectors arrive and the Club Manager is not on site. Go through your Clubs New Zealand Gaming Compliance folders and ensure that these are update to date and being used.
If you need assistance, have questions or need to refresh your gaming compliance folders get in touch with National Office.
You can view the Departments announcement by clicking the link below:
Operational Update: Important Announcement
Harm Minimisation Training
At Clubs New Zealand we are committed to host responsibility and providing club committees, management and staff with the tools, resources and knowledge that enables them to build a culture of care.
Clubs New Zealand is able to provide Harm Minimisation Training for club staff. The brief course is designed to meet the problem gambling awareness requirements of both the gambling and the racing regulations. These require venues to ensure there is always a trained person available on the premises whenever gambling is available.
This training is delivered by Clubs New Zealand at a cost of $10 per person.
Upon completion of the training participants will be issued with a certificate.
More information is available here or by contacting keith@clubsnz.com or dave@clubsnz.com directly.
Gaming Compliance Folders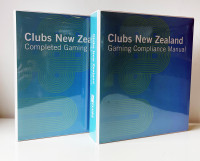 In early 2019 all clubs operating Class 4 gaming were sent the Clubs New Zealand Gaming Compliance Manuals. This included the Clubs New Zealand Gaming Compliance Manual, the Clubs New Zealand Completed Gaming Forms and a series of Harm Minimisation Posters.
The folders were produced by Clubs New Zealand with support from the Department of Internal Affairs and legal experts, with the simple aim of assisting clubs improve their compliance with the Gambling Act and The Gambling (Harm Prevention and Minimisation) Regulations 2004. The folders were sent "ready to use" with instructions on how to make them your everyday "go to" resource. All documents within the folders have been available to download and print from the Clubs New Zealand website in the event that the folders needed replenishing.
If you have not used the folders in a while we suggest you get them out, make sure they are up to date and incorporated into your daily activities. We have had a few requests for replacement folders, please note we have a very small stock of these folders available and a charge will apply for additional or replacement folders.
Downloads for replenishing the folders can be found in the Clubs New Zealand Resource Room
ClubCare Harm Minimisation Pack
The Gambling (Harm Prevention and Minimisation) Regulations 2004 require you to provide information about problem gambling in particular;
Pamphlets providing information about the odds of winning on gaming machines,
Information about the characteristics of problem gambling (including the recognised signs of problem gambling) and how to seek advice for problem gambling, and
Signage that is clearly visible that encourages players to gamble only at levels they can afford.
The ClubCare Harm Minimisation Pack is designed to exceed the information and signage requirements. If you need new signage, pamphlets etc please contact National Office on enquiries@clubsnz.com
HPA Gamble Host Pack
The Health Promotion Agency has a massive library of resources within the Gamble Host Pack which can be downloaded or order via there website
https://www.gamblehost.org.nz/resources
Department of Internal Affairs Guidance
The Department publishes details of Venue Assessments on its website. This includes guidance for venues, assessment outcomes framework, expectations and guidance for inspectors.
You can access this information here https://www.dia.govt.nz/Services-Casino-and-Non-Casino-Gaming-Gambling-in-Pubs-and-Clubs-(Class-4)#venue-assessments