Online Voting Options
25 March 2022
Whether its just to give better voting access to more of your members, or to increase your voter turnout, many clubs are considering online solutions for committee voting. Leigh takes a closer look at services available and reports on findings below:
We'll start with the gold standard at any price option. With a $5000 base price, and $200 per candidate, Electionz is not the option for everyone. But if you need someone to look after the entire online voting process and don't care what it costs, then maybe this is for you.

There are much cheaper options though, so read on to get some idea of what's available. I haven't covered every option as there are dozens. If you are looking at alternative options to those listed below, just make sure they offer elections for candidates and aren't only able to do polls, which won't work for your committee elections.
ElectioNZ
www.electionz.com - wlampp@electionz.com
This is a full featured professional online voting system based in NZ. You tell them what you want, and they make it work. Their system is solely based on online voting though, so if you plan to also take votes in person then you will need to add these manually yourself at the end.
These guys do online voting for some big players and know how to charge.

Starts from $5000 base fee, and $200 per candidate. Prices go up from there depending on what you want.
Election Services
www.electionservices.co.nz

Another fully inclusive NZ based service along the same lines as ElectioNZ. No prices given but likely to be in the thousands, not hundreds. Contact them for a quote if this is the type of service you are looking for.
Election Buddy
I like this one. Election Buddy is an easy to use online voting service with a lot of features, which allows you to easily setup your election ballot, and steps you through creating an election with the options you require. Create your free account and test as much you like, then setup your election and only pay when you're ready to start voting. Also has the option to take votes face to face in the club. You pay based on how many votes and what features you require.

US$19 (NZ$27) – Up to 350 Voters
US$89 (NZ$128) – Up to 1000 Voters
US$299 (NZ$430) – Up to 100,000 voters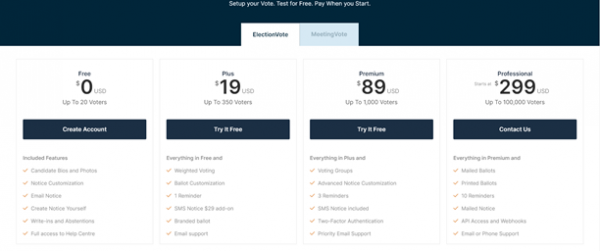 Election Runner
Another user friendly option which covers the options needed for online elections. Also uses the number of voters as the pricing structure.
US$19 – Up to 100 voters
US$36 – Up to 300 voters
US$108 – Up to 1200 voters
US$450 – Up to 5000 voters (calculated at 0.09c per voter)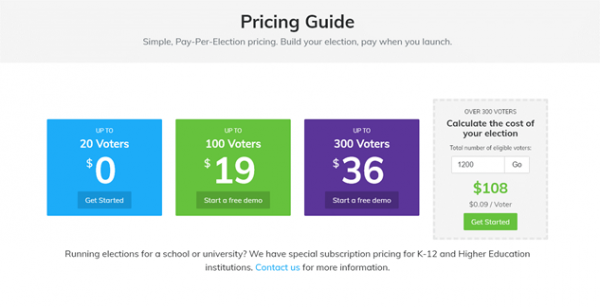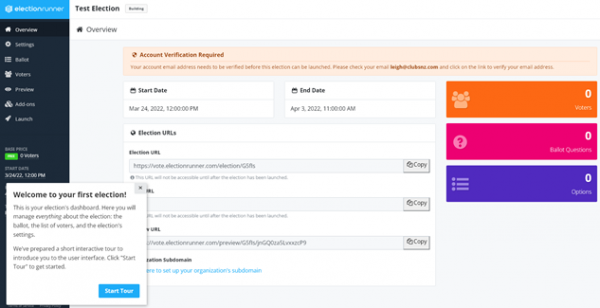 Other Options…
Here is a list of some other online election options that might be worth considering if the above doesn't meet your requirements.
eBallot – www.eballot.com
OpaVote – www.opavote.com
Survey & Ballot Systems – www.surveyandballotsystems.com
Go Vote – www.govote.com.au
CONCLUSION:
If you're on a budget then you cant go past Election Buddy for a great value service. If you have unlimited cash and don't want to do any setup work, then ElectioNZ could be an option for you, though I expect this is outside the budget of most clubs. Most have a free trial, so jump in and have a go at setting up your election. If you have any questions, please contact leigh@clubsnz.com