If you need further help please get in touch with the team at Clubs New Zealand by emailing enquiries@clubsnz.com
How do I download the app?
Visit the app store on iOS or the play store on Android and search for Clubs New Zealand.
Alternatively use your phones camera to scan the applicable QR code below: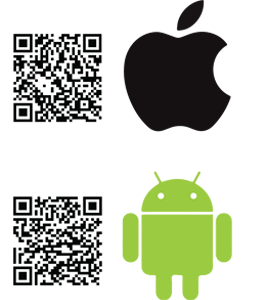 It's my first time using the app, what do I do?
Welcome, if you are already a club member but have not used the app before, click "Sign Up". We will ask you to provide some basic information about your membership and you will also be prompted to create a password. Once all your details are entered click Sign Up.
Often we are able to verify your membership straight away, however, sometimes we may need a little longer. If we are unable to verify your membership straight away the digital membership card will display a message advising you to Hold Tight! As soon as we have verified your membership with your home club, the digital membership card will update automatically for you.
I've used the app before, but I don't have a password, what do I do?
Jump into the app and click "Log in", you will see a link called "Don't have a password yet?" click that and enter your email and your preferred password and click log in.
I have forgotten my password, what do I do?
Click log in and then click the "Forgot password?" link, follow the prompts to reset your password.
How do I update my digital membership card?
If you need to update any details on your digital membership card please contact enquiries@clubsnz.com
Can I use my Digital Membership Card to visit other clubs?
Yes, your digital membership card confirms that you are financial member of a club and can be used when visiting other clubs. Depending on the clubs rules and policies you may still be required to sign in when visiting another club.
Is there anything I should know before I visit another club?
Reciprocal Rights is an important part of club life, we have put together some helpful guidelines to reciprocal rights which you should take the time to review when visiting another club. It is important to remember that by visiting another club you are agreeing to abide the rules and constitution of that club.
Guidelines for visiting another club
Why cannot I not see a club I am looking for?
The in app Club Locator shows all clubs that are financial members of Clubs New Zealand. By default you will be shown the clubs closest to you on the map. If you are trying to find a particular club you can search for the clubs name by tapping on the search symbol or clicking view list which will show you all clubs in alphabetical order.
How do I filter the clubs to show clubs offering certain facilities or sports?
After opening the map you can filter what clubs are shown depending on your interests. Click the filter options and select what facilities and sports you would like to see.
How do I update my details?
You can update your information within the account section of the app after you have signed in. If you need any assistance updating your details please contact enquiries@clubsnz.com
What messages will you send me?
Clubs New Zealand may from time to time send you in app messages to let you know about special offers or events happening in clubs near you. Depending on your preferences we may also send messages to let you know about upcoming sports tournaments and events. You can manage how you receive these messages in your phones notification settings.
For more information on the Clubs New Zealand App please contact enquiries@clubsnz.com