Its about to get easier to sign up to the Clubs New Zealand Mobile App
13 May 2021
Over the last few months Clubs New Zealand has been working alongside Paperkite (our app developers) to further develop the Clubs New Zealand app, streamline the sign in/sign up process and improve the apps messaging capabilities. We are in the final stages of this development and hope to release the updated app shortly.
Signing up to the app is about to get a whole lot easier
We have listened to your feedback and have made some significant changes to the sign up/sign in process. We are replacing the current log in method with a standard email and password login.
Existing app users will be invited to create a password so that they can continue to use and enjoy the app.
New app users will use the simplified sign up form within the app. Where we have a clubs membership list, members will be able to sign up, create a password and start using the app straight away. If we don't have the clubs membership list, there will be a short delay before the member can use the app while we manually check the members status with the club.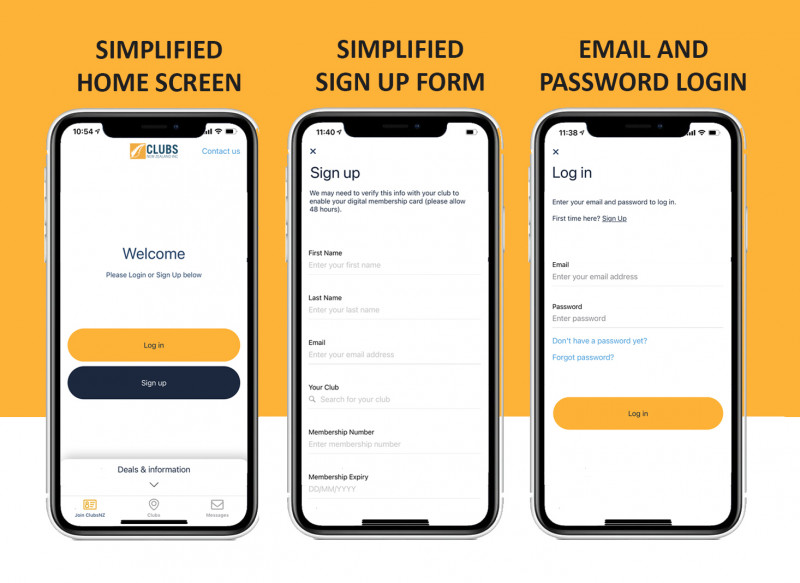 Give your members a jump start by sharing your membership list
Previously we have required clubs to share a whole heap of information with Clubs New Zealand in order for members to be able to use the app straight away, that is changing.
The new update will mean we only need Clubs to share a simple membership list containing each members:
first name,
last name,
email address (if possible),
member number,
expiry date, and
membership type (if not "ordinary").
We invite clubs to give your members a jump start on signing up for the app by sharing your clubs membership list with Clubs New Zealand. As mentioned above where we have a clubs membership list, your members will be able to sign up for the app and start using it straight away.
Memberships lists should be emailed to lucy@clubsnz.com
Improved Messaging Capabilities
As part of this development we are improving the apps messaging capabilities so that we can further segment and target messages to app users. Currently we are able to segment based on the interests members select when they sign up to the app (i.e. particular sports).
This development will allow us to segment based on club (i.e. we will be able to target messages to a particular club, clubs or areas). This development will allow clubs to submit messages targeted at their clubs app users.
Once this is live we will provide further information, the process to submit messages and Clubs New Zealand's messaging policy.
When will this be live?
We are in the final testing phase and our developers are working to iron out the final bug. We are hoping that the update will be available within the app store and play store within the next week or two.
If you have any questions please contact leigh@clubsnz.com or lucy@clubsnz.com