Get ready for the Clubs New Zealand 2021 Conference, AGM + EXPO
11 March 2021
This time next week delegates will begin arriving in Christchurch for the Clubs New Zealand 2021 Conference, Expo & AGM hosted by the Richmond Club.
Registrations will open from 9.30am, Friday 19th March at the Richmond Club. As always the National Office team will be on hand throughout the event to get you registered and answer your questions.
To help you get ready for conference we have prepared some tips, tricks and useful information below;
COVID-19
The Conference, AGM and EXPO will be run in accordance with the New Zealand Event Sector Voluntary Code. The code sets out the best practice guidelines for delivering events within the COVID environment.
In following the code Clubs New Zealand has made a commitment to:
Adopt the COVID-19 Ministry of Health Guidance,
Enable effective contact tracing,
Retain records, and
Ensure operators and attendees are educated on the hygiene practices expected.
Contact Tracing
Richmond Club will display the COVID Tracer App QR Code as required. Clubs New Zealand will also have a COVID Tracer App QR code specifically for conference attendees that will be displayed at the registration desk and at the entrance to the Social Hall. We ask that all conference attendees, partners and exhibitors scan these QR codes when entering.
We will also be maintaining a register of attendees which will be kept on file following the event.
Maintain Good Hygiene
Attendees are asked to wash your hands regularly, cough or sneeze into your elbow and use hand sanitiser where possible.
Attendees that wish to wear a mask are able and encouraged to do so.
The Richmond Club have a cleaning schedule that they will maintain throughout the event.
If you are feeling unwell, please stay home.
More information on protecting yourself and others from COVID-19 can be found here
Name Tags
As mentioned above registrations open at 9.30am, Friday 19th March. At registration you will receive your conference name tag - make sure that you have your name tag on you throughout the conference and events. The staff at Richmond Club will be looking to make sure you have your conference name tag on, particularly when making purchases at the bar.
Partners Trips
There is a great partners trip lined up for Sunday 21st March. If your club has partners wishing to go on the partners trip we would appreciate you registering your interest with keith@clubsnz.com asap so that we can get an idea of numbers.
The Conference Agenda
The final conference agenda can be downloaded using the link below;
Clubs New Zealand 2021 Conference & AGM Agenda
Delegates will receive hard copies of the Annual Report and Programme in your delegate bags when you arrive at conference.
Shameless App Plug
Instead of hunting around looking for club contact details, why not download the Clubs New Zealand App, save Richmond Club (along with our other Canterbury Clubs) to your favorites list and the clubs details are always no more then a few taps away!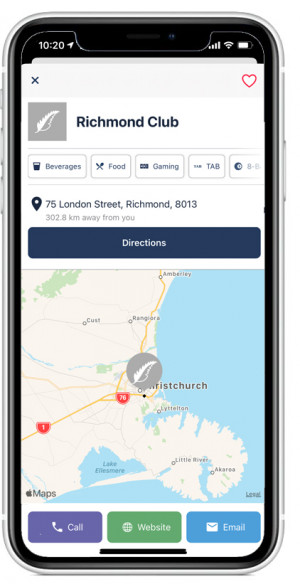 As always if you have any questions get in touch with the team at National Office, otherwise we look forward to seeing you all next week.