Clubs New Zealand 2022 Wage and Salary Guide
4 August 2022
We would like to thank all clubs that participated in this years Wage and Salary Survey and are pleased to announce that the Clubs New Zealand 2022 Wage and Salary Guide is now available for members to download in the resource room.
The 2022 Wage and Salary Survey was conducted as an online survey from 9th June 2022 through to 31st July 2022 for which we received a total of 151 responses. This is a largest response rate that we have received for this survey and clearly demonstrates the need for reliable wage and salary data.
Using the results of the survey we have produced the Wage and Salary Guide which has been prepared into the following sections;
Training
National Results Summary
Analysis for five key positions based on geographical location
Membership size comparison
Trends
As with previous Wage and Salary Guides other than for the position of Club Manager we see that there is little correlation between the clubs membership size and the wage and or salary. Likewise for the positions broken down by region we can see that the wage and/or salary still closely matches the National Average. This suggests that there is a continuing focus on designing remuneration packages which take into account qualifications, experience, budget, minimum wage and the needs of the club, rather than focusing on membership size and geographic location.
Comparisons to the 2021 Wage and Salary Survey
Since the 2021 Wage and Salary Survey the New Zealand Adult Minimum Wage has increased 6% from $20.00 per hour to $21.20 per hour.
The average Salary for Club Managers (includes CEO & Secretary Managers) increased 9.3% from $73,658 to $80,493.
The average Wage for Duty Managers moved up 4.43% from $23.00 per hour to $24.02. This is on the back of a 9.2% increase in average wage recorded in the 2020 Wage and Salary Guide.
The average Wage for a bar person (who also covers TAB and Gaming) increased 6.66% from $21.75 to $23.20.
With the increased competition for staff we are seeing average wages become more aligned with the living wage which is $23.65 for 2022/23.
The below chart compares the average wage for a bar person employed within a club, with the minimum wage over the last five years. The chart illustrates that the average wage for a bar person is consistently above the minimum wage and has increased at roughly the same rate as minimum wage, which is a 28% increase over the last five years.
Chart showing the average wage for a bar person compared to minimum wage over the last five years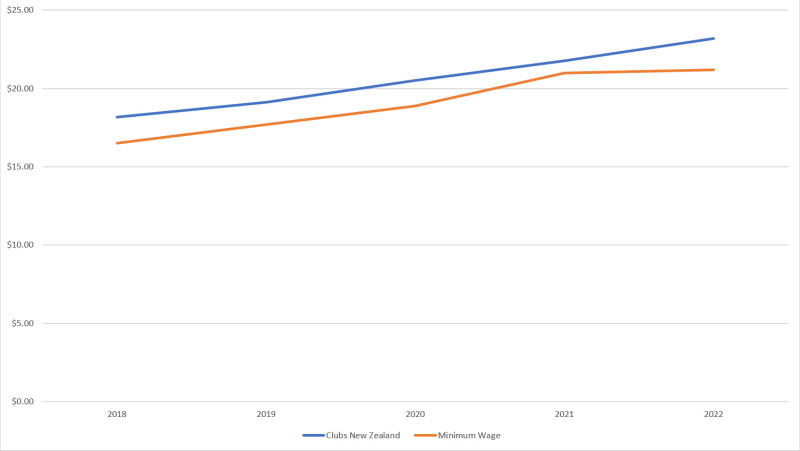 Download the Wage and Salary Guide
To download the 2022 Wage and Salary Guide please login to the website and visit Members Area>Resources>Human Resource Management>Wage and Salary Guide or you can use the link below after signing in: