AMS Nightlife knows music, so you don't have to
13 January 2022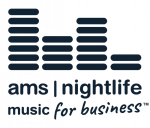 AMS Nightlife are industry leaders, constantly driving innovation and development to deliver you the very best premium product and service.
No music solution provider offers a multi layered, tailored approach quite like AMS Nightlife. With a team of developers, AMS Nightlife is at the forefront of technology ensuring their product and your experience, is unrivalled.
Shape your sound with
Customised set and forget program music that's constantly fresh
crowdDJ- Let customers and staff personalise the playlist and take the sound home!
Quiz & Jingo integration- Enhance your customer experience and draw a loyal crowd
Screen visuals & content such as music videos or promotional advertising
Karaoke
Check out our exclusive new function room capability
24/7 NZ based phone support and a dedicated Account Manager
Music has the power to transform a business by connecting people with places. AMS Nightlife ensures your music and content is on-brand on-trend and meets the legal obligations for commercial use.
Get Started
Simply trial the AMS Nightlife System for 30 days for free, with no obligation.
Join Us
Sign up and receive the first 3 months half price.
T's and C's. Offer available for new customers only. Available until 28/2/2022
Get In Touch, we'd love to hear from you.
0800 267 687
enquiries@amsnightlife.co.nz