Clubs New Zealand 2020 Digital Annual General Meeting
11 September 2020

For the first time, Clubs New Zealand's Annual General Meeting will be held digitally via a Zoom Webinar on Friday 11th September 2020.
Because this is a first for all of us we will be running a "test AGM" a week prior to provide delegates the opportunity to make sure equipment is working as expected so that you are all ready to go for the live AGM.
Key Dates
Monday 31st August - Registration emails for the "Test AGM" will be sent out
Friday 4th September - "Test AGM" will be held at 9.30am
Monday 7th September - Registration emails for the LIVE AGM will be sent out
Friday 11th September - The LIVE AGM will commence at 9.30am
Agenda and Key Documents
How to Register and Participate
Leigh has created a quick video to demonstrate how to register and how delegates will be able to participate and ask questions on the day (it will be a little different from a normal Zoom meeting).
Click the image below to watch the how to video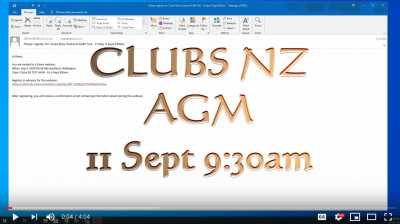 We will be asking for one registration per club, one connection per club and as usual one vote per club.
The AGM will be held via the Webinar settings on Zoom so delegates will not be shown on screen (meaning that number ones are optional this year).
Over the next two weeks we will be sharing a heap of information via our website and direct email, but if you have any questions please contact National Office on 0800 4 CLUBS.